On September 15, 2013 by
Kate
With
0
Comments -
Books
,
Foody Things
,
Home-things
,
London
I know that the new year starts for most people on January 1st, but for me, it's always been the first day of school. Now that I'm teaching, this feels even more the case. I'm in a new place, in a new town, in a new school, with new students, and all kinds of new things to learn and teach. It's all very exciting, except when it's also a little "aaaaaaghh-ish!". Fortunately, there's always a weekend right around the corner when that happens. This past week was a bit rocky, so it was lovely to just flop on Friday night and not have to deal with anything that smacked of newness!
By Saturday, I was already feeling more myself, and a day spent shopping and walking around a rainy London only helped. It takes an hour to get into London from my new home, so I wanted to cram as much shopping as I could into the day. I walked up and down Oxford Street, browsing through the enormous John Lewis, popping into shoe stores, walking into anything that looked interesting, getting a few things at Boots, and eventually ending up at Gap, which seems both weirdly familiar and yet very different to the store I know from home. I eventually found some really lovely things for my home, so I walked into Marylebone to visit Daunt Books, something I've been wanting to do for ages. The store is beautiful and temptingly stacked full of enticing books, but it's the travel section that bowled me over. I love how it has been arranged by regions and countries, with biographies and memoirs stuffed into their relevant countries. I snapped up a small book on Copenhagen and ran through the rain to the Nordic Bakery for a warm and spice-filled cinnamon bun and an enormous latte, and read my book and munched while I sat out the worst of the downpour. (Many thanks to Miranda who first recommended the bakery!)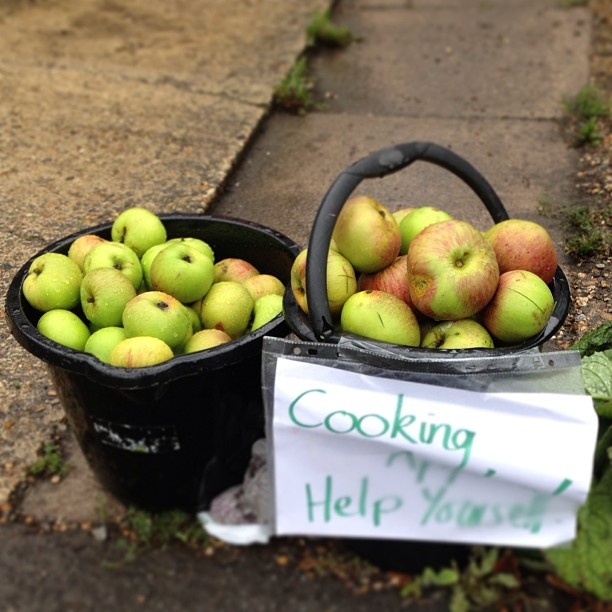 I've spent the rest of the weekend just trying to relax and clean and get ready for the week ahead: lots to do. Fortunately, so many of the new things in my life are also quite lovely. Like my generous, apple-donating neighbours.